Exporting Vectorized Function Graphs from IDA Pro
I recently faced the problem that I wanted to place the control flow graph of a compiled function in a PDF file while still somewhat satisfying aesthetic aspirations. I get that taking a screenshot from IDA's graph view widget does the trick most of the time, but the job becomes tedious if the exported function is larger than the screen size (implying pixel-fiddling in your favorite image editor as a consequence). In case one wants to maintain a resolution that would allow future readers to zoom onto details of a more complex graph, one quickly ends up sewing together dozens of screenshots.
IDA offers to export the displayed function graph as Geometric Description Language (GDL) file, but all spatial information such as basic block positioning and edge routing is not part of the exported file. The result is a rather poor-looking graph, that serves the purpose, but isn't particularly enjoyable to look at. For example, the following function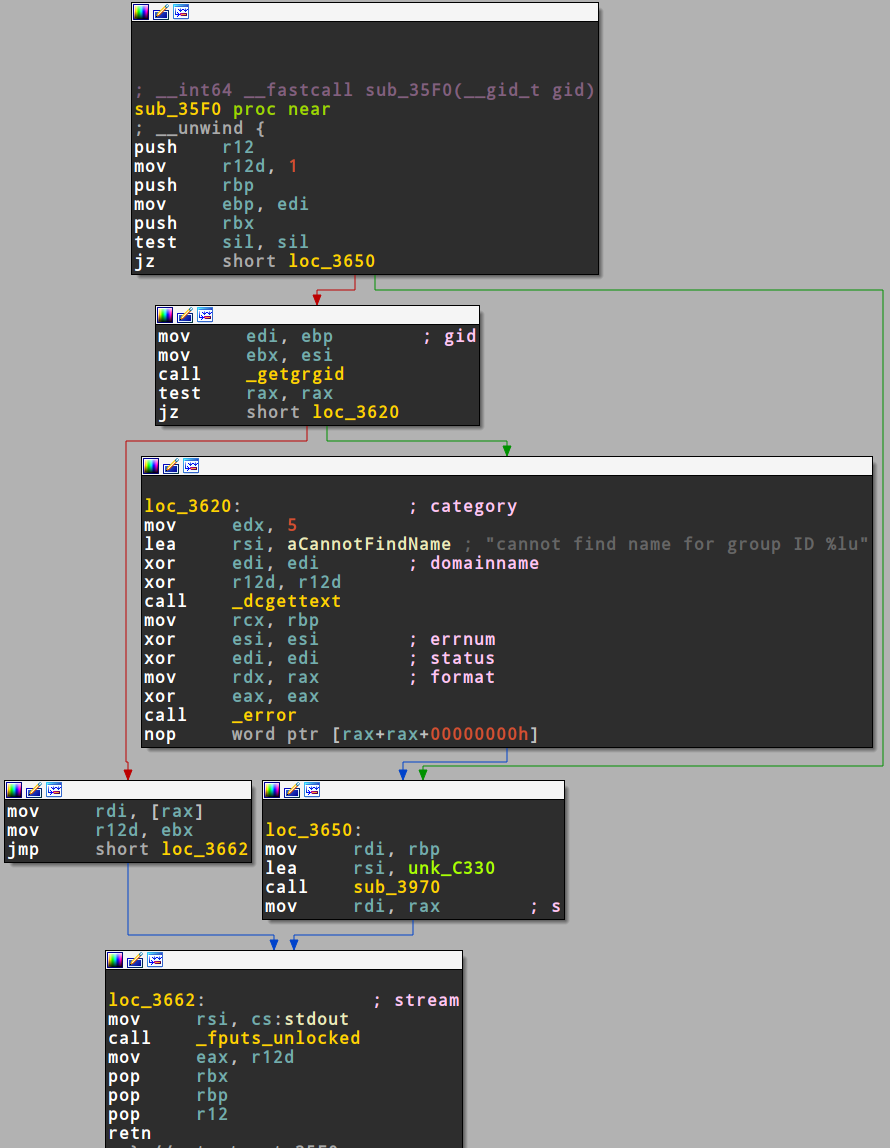 when exported to GDL and converted to PNG with graph-easy
graph-easy --from gdl --input

=

graph.gdl --png --output

=

converted_from_gdl.png

looks as below:

This—in my humble optinion—isn't particularly a treat to the eyes.
I therefore took the time to write a small plugin for IDA Pro that retrieves the graphical parameters from a particular graph view and exports them to JSON. For example the (shortened) JSON of the function above looks as follows:
{
    

"font_flags"

 : 

1

,
    

"font_name"

 : 

"Droid Sans Mono"

,
    

"font_size"

 : 

12

,
    

"functions"

 : 
    [
        {
            

"basic_blocks"

 : 
            [
                {
                    

"addr_end"

 : 

13825

,
                    

"addr_start"

 : 

13808

,
                    

"bottom"

 : 

273

,
                    

"bytes"

 : 

"eJwBhgB5/0FUQbwBAAAAVYn9U0CE9nRPie+J8+hm6///SIXAdBFIizhBidzrS2YPH4QAAAAAALoFAAAASI01ZFIAADH/RTHk6Lrq//9Iiekx9jH/SInCMcDo6ez//2YPH4QAAAAAAEiJ70iNNdaMAADoEQMAAEiJx0iLNT+MAADokuv//0SJ4FtdQVzDc4I7MQ==QVRBvAEAAABVif1TQIT2dE8="

,
                    

"compressed"

 : 

false

,
                    

"disasm_lines"

 : 
                    [
                        {
                            

"bg_color"

 : 

4294967295

,
                            

"text"

 : 

"AA=="


                        },
                        {
                            

"bg_color"

 : 

4294967295

,
                            

"text"

 : 

"AA=="


                        },
                        {
                            

"bg_color"

 : 

4294967295

,
                            

"text"

 : 

"AA=="


                        },
                        {
                            

"bg_color"

 : 

4294967295

,
                            

"text"

 : 

"AQM7IF9faW50NjQgX19mYXN0Y2FsbCBzdWJfMzVGMChfX2dpZF90IGdpZCkCAwA="


                        },
                        {
                            

"bg_color"

 : 

4294967295

,
                            

"text"

 : 

"ARsBKDAwMDAwMDAwMDAwMDM1RjABGgEoMDAwMDAwMDAwMDAwMzVGMHN1Yl8zNUYwAhogcHJvYyBuZWFyAhsA"


                        },
                        {
                            

"bg_color"

 : 

4294967295

,
                            

"text"

 : 

"OyBfX3Vud2luZCB7AA=="


                        },
                        {
                            

"bg_color"

 : 

4294967295

,
                            

"text"

 : 

"AQVwdXNoAgUgICAgASkBIXIxMgIhAikA"


                        },
                        {
                            

"bg_color"

 : 

4294967295

,
                            

"text"

 : 

"AQVtb3YCBSAgICAgASkBIXIxMmQCIQIpAQksAgkgASoBDDECDAIqAA=="


                        },
                        {
                            

"bg_color"

 : 

4294967295

,
                            

"text"

 : 

"AQVwdXNoAgUgICAgASkBIXJicAIhAikA"


                        },
                        {
                            

"bg_color"

 : 

4294967295

,
                            

"text"

 : 

"AQVtb3YCBSAgICAgASkBIWVicAIhAikBCSwCCSABKgEhZWRpAiECKgA="


                        },
                        {
                            

"bg_color"

 : 

4294967295

,
                            

"text"

 : 

"AQVwdXNoAgUgICAgASkBIXJieAIhAikA"


                        },
                        {
                            

"bg_color"

 : 

4294967295

,
                            

"text"

 : 

"AQV0ZXN0AgUgICAgASkBIXNpbAIhAikBCSwCCSABKgEhc2lsAiECKgA="


                        },
                        {
                            

"bg_color"

 : 

4294967295

,
                            

"text"

 : 

"AQVqegIFICAgICAgASBzaG9ydCACIAEpARoBKDAwMDAwMDAwMDAwMDM2NTBsb2NfMzY1MAIaAikA"


                        }
                    ],
                    

"id"

 : 

0

,
                    

"left"

 : 

130

,
                    

"right"

 : 

598

,
                    

"top"

 : 

0


                },
                {
                    

"addr_end"

 : 

13839

,
                    

"addr_start"

 : 

13825

,
                    

"bottom"

 : 

424

,
                    

"bytes"

 : 

"eJwBhgB5/0FUQbwBAAAAVYn9U0CE9nRPie+J8+hm6///SIXAdBFIizhBidzrS2YPH4QAAAAAALoFAAAASI01ZFIAADH/RTHk6Lrq//9Iiekx9jH/SInCMcDo6ez//2YPH4QAAAAAAEiJ70iNNdaMAADoEQMAAEiJx0iLNT+MAADokuv//0SJ4FtdQVzDc4I7MQ==QVRBvAEAAABVif1TQIT2dE8=ie+J8+hm6///SIXAdBE="

,
                    

"compressed"

 : 

false

,
                    

"disasm_lines"

 : 
                    [
                        {
                            

"bg_color"

 : 

4294967295

,
                            

"text"

 : 

"AQVtb3YCBSAgICAgASkBIWVkaQIhAikBCSwCCSABKgEhZWJwAiECKiAgICAgICAgAQI7IGdpZAICAA=="


                        },
                        {
                            

"bg_color"

 : 

4294967295

,
                            

"text"

 : 

"AQVtb3YCBSAgICAgASkBIWVieAIhAikBCSwCCSABKgEhZXNpAiECKgA="


                        },
                        {
                            

"bg_color"

 : 

4294967295

,
                            

"text"

 : 

"AQVjYWxsAgUgICAgASkBJQEoMDAwMDAwMDAwMDAwMjE3MF9nZXRncmdpZAIlAikA"


                        },
                        {
                            

"bg_color"

 : 

4294967295

,
                            

"text"

 : 

"AQV0ZXN0AgUgICAgASkBIXJheAIhAikBCSwCCSABKgEhcmF4AiECKgA="


                        },
                        {
                            

"bg_color"

 : 

4294967295

,
                            

"text"

 : 

"AQVqegIFICAgICAgASBzaG9ydCACIAEpARoBKDAwMDAwMDAwMDAwMDM2MjBsb2NfMzYyMAIaAikA"


                        }
                    ],
                    

"id"

 : 

1

,
                    

"left"

 : 

157

,
                    

"right"

 : 

482

,
                    

"top"

 : 

303


                },
                {
                    

"addr_end"

 : 

13847

,
                    

"addr_start"

 : 

13839

,
                    

"bottom"

 : 

861

,
                    

"bytes"

 : 

"eJwBhgB5/0FUQbwBAAAAVYn9U0CE9nRPie+J8+hm6///SIXAdBFIizhBidzrS2YPH4QAAAAAALoFAAAASI01ZFIAADH/RTHk6Lrq//9Iiekx9jH/SInCMcDo6ez//2YPH4QAAAAAAEiJ70iNNdaMAADoEQMAAEiJx0iLNT+MAADokuv//0SJ4FtdQVzDc4I7MQ==QVRBvAEAAABVif1TQIT2dE8=ie+J8+hm6///SIXAdBE=SIs4QYnc60s="

,
                    

"compressed"

 : 

false

,
                    

"disasm_lines"

 : 
                    [
                        {
                            

"bg_color"

 : 

4294967295

,
                            

"text"

 : 

"AQVtb3YCBSAgICAgASkBIXJkaQIhAikBCSwCCSABKgEJWwIJASFyYXgCIQEJXQIJAioA"


                        },
                        {
                            

"bg_color"

 : 

4294967295

,
                            

"text"

 : 

"AQVtb3YCBSAgICAgASkBIXIxMmQCIQIpAQksAgkgASoBIWVieAIhAioA"


                        },
                        {
                            

"bg_color"

 : 

4294967295

,
                            

"text"

 : 

"AQVqbXACBSAgICAgASBzaG9ydCACIAEpARoBKDAwMDAwMDAwMDAwMDM2NjJsb2NfMzY2MgIaAikA"


                        }
                    ],
                    

"id"

 : 

2

,
                    

"left"

 : 

0

,
                    

"right"

 : 

248

,
                    

"top"

 : 

778


                },
                {
                    

"addr_end"

 : 

13904

,
                    

"addr_start"

 : 

13856

,
                    

"bottom"

 : 

746

,
                    

"bytes"

 : 

"eJwBhgB5/0FUQbwBAAAAVYn9U0CE9nRPie+J8+hm6///SIXAdBFIizhBidzrS2YPH4QAAAAAALoFAAAASI01ZFIAADH/RTHk6Lrq//9Iiekx9jH/SInCMcDo6ez//2YPH4QAAAAAAEiJ70iNNdaMAADoEQMAAEiJx0iLNT+MAADokuv//0SJ4FtdQVzDc4I7MQ==QVRBvAEAAABVif1TQIT2dE8=ie+J8+hm6///SIXAdBE=SIs4QYnc60s=ugUAAABIjTVkUgAAMf9FMeTouur//0iJ6TH2Mf9IicIxwOjp7P//Zg8fhAAAAAAA"

,
                    

"compressed"

 : 

false

,
                    

"disasm_lines"

 : 
                    [
                        {
                            

"bg_color"

 : 

4294967295

,
                            

"text"

 : 

"AA=="


                        },
                        {
                            

"bg_color"

 : 

4294967295

,
                            

"text"

 : 

"ASgwMDAwMDAwMDAwMDAzNjIwARoBKDAwMDAwMDAwMDAwMDM2MjBsb2NfMzYyMAIaAQk6AgkgICAgICAgICAgICAgICABAjsgY2F0ZWdvcnkCAgA="


                        },
                        {
                            

"bg_color"

 : 

4294967295

,
                            

"text"

 : 

"AQVtb3YCBSAgICAgASkBIWVkeAIhAikBCSwCCSABKgEMNQIMAioA"


                        },
                        {
                            

"bg_color"

 : 

4294967295

,
                            

"text"

 : 

"AQVsZWECBSAgICAgASkBIXJzaQIhAikBCSwCCSABKgEGASgwMDAwMDAwMDAwMDA4ODkwYUNhbm5vdEZpbmROYW1lXzACBgIqIAEEOyABKDAwMDAwMDAwMDAwMDg4OTAiY2Fubm90IGZpbmQgbmFtZSBmb3IgZ3JvdXAgSUQgJWx1IgIEAA=="


                        },
                        {
                            

"bg_color"

 : 

4294967295

,
                            

"text"

 : 

"AQV4b3ICBSAgICAgASkBIWVkaQIhAikBCSwCCSABKgEhZWRpAiECKiAgICAgICAgAQI7IGRvbWFpbm5hbWUCAgA="


                        },
                        {
                            

"bg_color"

 : 

4294967295

,
                            

"text"

 : 

"AQV4b3ICBSAgICAgASkBIXIxMmQCIQIpAQksAgkgASoBIXIxMmQCIQIqAA=="


                        },
                        {
                            

"bg_color"

 : 

4294967295

,
                            

"text"

 : 

"AQVjYWxsAgUgICAgASkBJQEoMDAwMDAwMDAwMDAwMjBGMF9kY2dldHRleHQCJQIpAA=="


                        },
                        {
                            

"bg_color"

 : 

4294967295

,
                            

"text"

 : 

"AQVtb3YCBSAgICAgASkBIXJjeAIhAikBCSwCCSABKgEhcmJwAiECKgA="


                        },
                        {
                            

"bg_color"

 : 

4294967295

,
                            

"text"

 : 

"AQV4b3ICBSAgICAgASkBIWVzaQIhAikBCSwCCSABKgEhZXNpAiECKiAgICAgICAgAQI7IGVycm51bQICAA=="


                        },
                        {
                            

"bg_color"

 : 

4294967295

,
                            

"text"

 : 

"AQV4b3ICBSAgICAgASkBIWVkaQIhAikBCSwCCSABKgEhZWRpAiECKiAgICAgICAgAQI7IHN0YXR1cwICAA=="


                        },
                        {
                            

"bg_color"

 : 

4294967295

,
                            

"text"

 : 

"AQVtb3YCBSAgICAgASkBIXJkeAIhAikBCSwCCSABKgEhcmF4AiECKiAgICAgICAgAQI7IGZvcm1hdAICAA=="


                        },
                        {
                            

"bg_color"

 : 

4294967295

,
                            

"text"

 : 

"AQV4b3ICBSAgICAgASkBIWVheAIhAikBCSwCCSABKgEhZWF4AiECKgA="


                        },
                        {
                            

"bg_color"

 : 

4294967295

,
                            

"text"

 : 

"AQVjYWxsAgUgICAgASkBJQEoMDAwMDAwMDAwMDAwMjMzMF9lcnJvcgIlAikA"


                        },
                        {
                            

"bg_color"

 : 

4294967295

,
                            

"text"

 : 

"AQVub3ACBSAgICAgASkBIHdvcmQgcHRyAiAgAQlbAgkBIXJheAIhAQkrAgkBIXJheAIhAQkrAgkBHzAwMDAwMDAwaAIfAQldAgkCKQA="


                        }
                    ],
                    

"id"

 : 

3

,
                    

"left"

 : 

137

,
                    

"right"

 : 

891

,
                    

"top"

 : 

454


                },
                {
                    

"addr_end"

 : 

13922

,
                    

"addr_start"

 : 

13904

,
                    

"bottom"

 : 

918

,
                    

"bytes"

 : 

"eJwBhgB5/0FUQbwBAAAAVYn9U0CE9nRPie+J8+hm6///SIXAdBFIizhBidzrS2YPH4QAAAAAALoFAAAASI01ZFIAADH/RTHk6Lrq//9Iiekx9jH/SInCMcDo6ez//2YPH4QAAAAAAEiJ70iNNdaMAADoEQMAAEiJx0iLNT+MAADokuv//0SJ4FtdQVzDc4I7MQ==QVRBvAEAAABVif1TQIT2dE8=ie+J8+hm6///SIXAdBE=SIs4QYnc60s=ugUAAABIjTVkUgAAMf9FMeTouur//0iJ6TH2Mf9IicIxwOjp7P//Zg8fhAAAAAAASInvSI011owAAOgRAwAASInH"

,
                    

"compressed"

 : 

false

,
                    

"disasm_lines"

 : 
                    [
                        {
                            

"bg_color"

 : 

4294967295

,
                            

"text"

 : 

"AA=="


                        },
                        {
                            

"bg_color"

 : 

4294967295

,
                            

"text"

 : 

"ASgwMDAwMDAwMDAwMDAzNjUwARoBKDAwMDAwMDAwMDAwMDM2NTBsb2NfMzY1MAIaAQk6AgkA"


                        },
                        {
                            

"bg_color"

 : 

4294967295

,
                            

"text"

 : 

"AQVtb3YCBSAgICAgASkBIXJkaQIhAikBCSwCCSABKgEhcmJwAiECKgA="


                        },
                        {
                            

"bg_color"

 : 

4294967295

,
                            

"text"

 : 

"AQVsZWECBSAgICAgASkBIXJzaQIhAikBCSwCCSABKgEkASgwMDAwMDAwMDAwMDBDMzMwdW5rX0MzMzACJAIqAA=="


                        },
                        {
                            

"bg_color"

 : 

4294967295

,
                            

"text"

 : 

"AQVjYWxsAgUgICAgASkBGgEoMDAwMDAwMDAwMDAwMzk3MHN1Yl8zOTcwAhoCKQA="


                        },
                        {
                            

"bg_color"

 : 

4294967295

,
                            

"text"

 : 

"AQVtb3YCBSAgICAgASkBIXJkaQIhAikBCSwCCSABKgEhcmF4AiECKiAgICAgICAgAQI7IHMCAgA="


                        }
                    ],
                    

"id"

 : 

4

,
                    

"left"

 : 

258

,
                    

"right"

 : 

561

,
                    

"top"

 : 

778


                },
                {
                    

"addr_end"

 : 

13942

,
                    

"addr_start"

 : 

13922

,
                    

"bottom"

 : 

1202

,
                    

"bytes"

 : 

"eJwBhgB5/0FUQbwBAAAAVYn9U0CE9nRPie+J8+hm6///SIXAdBFIizhBidzrS2YPH4QAAAAAALoFAAAASI01ZFIAADH/RTHk6Lrq//9Iiekx9jH/SInCMcDo6ez//2YPH4QAAAAAAEiJ70iNNdaMAADoEQMAAEiJx0iLNT+MAADokuv//0SJ4FtdQVzDc4I7MQ==QVRBvAEAAABVif1TQIT2dE8=ie+J8+hm6///SIXAdBE=SIs4QYnc60s=ugUAAABIjTVkUgAAMf9FMeTouur//0iJ6TH2Mf9IicIxwOjp7P//Zg8fhAAAAAAASInvSI011owAAOgRAwAASInHSIs1P4wAAOiS6///RIngW11BXMM="

,
                    

"compressed"

 : 

false

,
                    

"disasm_lines"

 : 
                    [
                        {
                            

"bg_color"

 : 

4294967295

,
                            

"text"

 : 

"AA=="


                        },
                        {
                            

"bg_color"

 : 

4294967295

,
                            

"text"

 : 

"ASgwMDAwMDAwMDAwMDAzNjYyARoBKDAwMDAwMDAwMDAwMDM2NjJsb2NfMzY2MgIaAQk6AgkgICAgICAgICAgICAgICABAjsgc3RyZWFtAgIA"


                        },
                        {
                            

"bg_color"

 : 

4294967295

,
                            

"text"

 : 

"AQVtb3YCBSAgICAgASkBIXJzaQIhAikBCSwCCSABKgEhY3MCIQEJOgIJAQcBKDAwMDAwMDAwMDAwMEMyQThzdGRvdXQCBwIqAA=="


                        },
                        {
                            

"bg_color"

 : 

4294967295

,
                            

"text"

 : 

"AQVjYWxsAgUgICAgASkBJQEoMDAwMDAwMDAwMDAwMjIwMF9mcHV0c191bmxvY2tlZAIlAikA"


                        },
                        {
                            

"bg_color"

 : 

4294967295

,
                            

"text"

 : 

"AQVtb3YCBSAgICAgASkBIWVheAIhAikBCSwCCSABKgEhcjEyZAIhAioA"


                        },
                        {
                            

"bg_color"

 : 

4294967295

,
                            

"text"

 : 

"AQVwb3ACBSAgICAgASkBIXJieAIhAikA"


                        },
                        {
                            

"bg_color"

 : 

4294967295

,
                            

"text"

 : 

"AQVwb3ACBSAgICAgASkBIXJicAIhAikA"


                        },
                        {
                            

"bg_color"

 : 

4294967295

,
                            

"text"

 : 

"AQVwb3ACBSAgICAgASkBIXIxMgIhAikA"


                        },
                        {
                            

"bg_color"

 : 

4294967295

,
                            

"text"

 : 

"AQVyZXRuAgUA"


                        },
                        {
                            

"bg_color"

 : 

4294967295

,
                            

"text"

 : 

"OyB9IC8vIHN0YXJ0cyBhdCAzNUYwAA=="


                        },
                        {
                            

"bg_color"

 : 

4294967295

,
                            

"text"

 : 

"ARsBKDAwMDAwMDAwMDAwMDM1RjABGgEoMDAwMDAwMDAwMDAwMzVGMHN1Yl8zNUYwAhogZW5kcAIbAA=="


                        },
                        {
                            

"bg_color"

 : 

4294967295

,
                            

"text"

 : 

"AA=="


                        }
                    ],
                    

"id"

 : 

5

,
                    

"left"

 : 

101

,
                    

"right"

 : 

459

,
                    

"top"

 : 

948


                }
            ],
            

"bitness"

 : 

64

,
            

"bytes"

 : 

"eJwBhgB5/0FUQbwBAAAAVYn9U0CE9nRPie+J8+hm6///SIXAdBFIizhBidzrS2YPH4QAAAAAALoFAAAASI01ZFIAADH/RTHk6Lrq//9Iiekx9jH/SInCMcDo6ez//2YPH4QAAAAAAEiJ70iNNdaMAADoEQMAAEiJx0iLNT+MAADokuv//0SJ4FtdQVzDc4I7MQ=="

,
            

"color"

 : 

4294967295

,
            

"edges"

 : 
            [
                {
                    

"color"

 : 

188

,
                    

"coords"

 : 
                    [
                        

"354 273"

,
                        

"354 288"

,
                        

"319 288"

,
                        

"319 303"


                    ],
                    

"dest_id"

 : 

1

,
                    

"source_id"

 : 

0


                },
                {
                    

"color"

 : 

37120

,
                    

"coords"

 : 
                    [
                        

"374 273"

,
                        

"374 288"

,
                        

"901 288"

,
                        

"901 764"

,
                        

"419 764"

,
                        

"419 778"


                    ],
                    

"dest_id"

 : 

4

,
                    

"source_id"

 : 

0


                },
                {
                    

"color"

 : 

188

,
                    

"coords"

 : 
                    [
                        

"309 424"

,
                        

"309 439"

,
                        

"122 439"

,
                        

"122 760"

,
                        

"124 760"

,
                        

"124 778"


                    ],
                    

"dest_id"

 : 

2

,
                    

"source_id"

 : 

1


                },
                {
                    

"color"

 : 

37120

,
                    

"coords"

 : 
                    [
                        

"329 424"

,
                        

"329 439"

,
                        

"514 439"

,
                        

"514 454"


                    ],
                    

"dest_id"

 : 

3

,
                    

"source_id"

 : 

1


                },
                {
                    

"color"

 : 

13320960

,
                    

"coords"

 : 
                    [
                        

"124 861"

,
                        

"124 933"

,
                        

"270 933"

,
                        

"270 948"


                    ],
                    

"dest_id"

 : 

5

,
                    

"source_id"

 : 

2


                },
                {
                    

"color"

 : 

13320960

,
                    

"coords"

 : 
                    [
                        

"514 746"

,
                        

"514 760"

,
                        

"399 760"

,
                        

"399 778"


                    ],
                    

"dest_id"

 : 

4

,
                    

"source_id"

 : 

3


                },
                {
                    

"color"

 : 

13320960

,
                    

"coords"

 : 
                    [
                        

"409 918"

,
                        

"409 933"

,
                        

"290 933"

,
                        

"290 948"


                    ],
                    

"dest_id"

 : 

5

,
                    

"source_id"

 : 

4


                }
            ],
            

"end"

 : 

13942

,
            

"error"

 : 

""

,
            

"flags"

 : 

21504

,
            

"frame_pointer_delta"

 : 

0

,
            

"frame_size"

 : 

24

,
            

"has_graph"

 : 

true

,
            

"name"

 : 

"sub_35F0"

,
            

"start"

 : 

13808

,
            

"valid"

 : 

true


        }
    ]
}

The JSON then is consumed by a small python script that produces a scalable vector graphic (SVG):
This isn't pixel-perfect either, but the result is good enough for my needs. To embed the graph into a PDF, I turned the SVG into a PDF via rsvg-convert:
rsvg-convert -f pdf -o output.pdf input.svg